This is a computer worm that can infect your computer and spread itself to other computers across a network automatically, without human interaction. At its peak, the Conficker had infected an estimated seven million government, business and home computers in over 200 countries, making it the largest known computer worm infection since the 2003.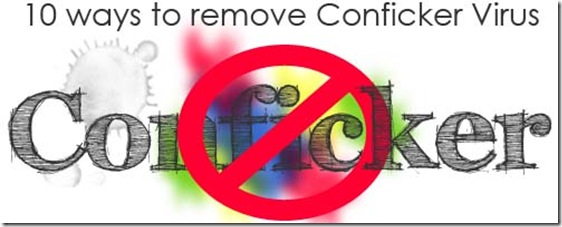 You can usually remove Conficker by running a full virus scan with an updated antivirus program. You should only attempt this method of removal if you have a high level of technical competence because accidentally deleting the wrong files or registry entries could render your computer operating system unusable.
Steps to permanently remove Conficker worm:
Ending the Conficker Process-
Step1:
Open "Start Task Manager" & Click on "Processes" tab.
Step2:
Find the "Conficker" process and right-click on it & click on End process/End process tree.
Deleting the infected Conficker files-
Step1:
Open "Search Program Files and Folders" from right click on Start button.
Step2:
Type "vhoinp.dll" in search box and click on "Search".
Step3:
If found any files, right click on Conficker.dll file and click the "Delete" button.
Step4:
After delete all files, close the window and return to desktop & empty your recycle bin.